DLF Hyde Park - Floors,
Mullanpur, Mohali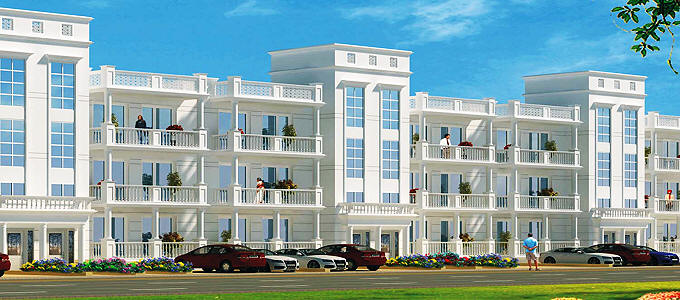 About DLF Hyde Park Floors
About Floors

Part Of 200 Acres Eco-Friendly Township, Hyde Park Terraces, Offers Premium Independent Homes Designed To Suit Your Needs. Built To Global Standards, It Offers The Perfect Mix Of Space And Compfort Coupled With A Picturesque View Of The Shivaliks.

Hyde Park Estate Will Be One Of The Best Planned Residential Development, Just A Stones Throw Away From Chandigarh. Approximately 6 KMs From PGI, It Is Also Well Connected With The Chandigarh Railway Station And Airport.


Some Features

8 KVA Power Back Up Per Unit
4 Person Elevator
One Surface Car Park Per Unit Or Floor
ATM
About HYDE PARK Mullanpur
DLF Hydepark Mullanpur

A Place Does Not Consider A Home Until This Comes With A Reason To Sprinkle The Happiness Around. Each And Every One Run Of Their Entire Life To Find A Little Of Contentment But Get Exhausted With Nothing. Home Is Where We Find Ourself With Family To Live Smilingly. Here, This Comes True When An Stunning Entry Of DLF Group Brings Its Prospect Called DLF Mullanpur, The New Premium Township. Strategically, Located At Mullanpur, Chandigarh Extn., DLF Mullanpur Shining Over An Extensive Area Of 1250 Acres Offers Elegant And Exclusive Living Space Ranging From The Plot Sizes Of 350 & 500 Sq Yards Available At The Affordable Price Of Rs. 88 Lacs Onwards.

DLF Mullanpur Is A Well-Designed Township Comes With The Best Of Design, Aesthetics And Urban Planning Confirming Fully Amenable With All The Quality Features. An Excellent Connectivity With Baddi, Nalagarh And Mohali, And Close To Proposed Health Village, DLF Mullanpur Is Expected To Give A Big Boost To The Growth Of The Area. Apart From The Beautiful And Scenic View Such As Shivalik Hills, DLF Mullanpur Covers The Major Attractions As Proposed Amusement Park, And Botanical Garden.

Project Specifications
LIVING/DINING ROOM

Flooring

Vitrified Tiles

Walls

Plastic Emulsion

Ceiling

OBD

BED ROOM

Walls

Plastic Emulsion

Ceiling

OBD

Flooring

Vitrified Tiles/Laminated Wooden Flooring

KITCHEN

Flooring

Floors - Vitrified Ceramic Antiskid Tiles

Walls

Ceramic Tile 600mm Above Counter. 1450 / 2050 Mm In Other Areas. Plastic Emulsion Above Tiles.

Ceiling

OBD

C P Fittings

Single Lever Fittings

Counter

Granite Top

Sink

Single Bowl With Drain Board.

TOILETS

Flooring

Floors - Vitrified Ceramic Antiskid Tiles

Walls

Ceramic Tiles Till 2100 Mm Height, Plastic Emulsion Above Tiles

Ceiling

OBD

C P Fittings

Single Lever Fittings ( Grohe Or Equivalent Brand )

Chinaware

White ( Roca Or Equivalent Brand )

BALCONIES

Flooring

White Terrazzo Tiles / Antiskid Ceramic Tiles

STAIRCASE

Flooring

Terrazo Tiles

Ceiling

OBD

UTILITY ROOM

Flooring

Mosaic Tiles

Wall

OBD

Ceiling

OBD

UTILITY TOILET

Flooring

Floors - Ceramic Tiles

Walls

Glazed Ceramic Tiles

Ceiling

OBD

C P Fittings

Standard Fittings

Chinaware

Standard Fittings

EXTERIOR

Walls

Sandtex Matt Paint Or Suitable Equivalent

DOORS / WINDOWS

Internal

Flush Doors Painted

Main Door

Flush Doors Polished

Windows

Aluminium (Powder Coated Or Anodized) / UPVC

HARDWARE

Front Door

Mortice Lock Brass Finish / SS Matt Finish, Night Latch Safety Chain

ELECTRICAL FITTINGS

Modular Type Switches & Sockets, Copper Wiring

LIFTS

Installation Of Lifts, Four /Six Passenger Lift , Internal Finishes - MS Painted With Half Mirror On The Back And Handrail ; Floor : 19 Mm Thick Marble Floor

POWER BACKUP

Upto 1950 Sq.Ft. Not Exceeding 8 KVA Per Independent Floor
From 1951 & Upto 2500 Sq. Ft. Not Exceeding 10 KVA Per Independent Floor
Payment Plans
INDEPENDENT FLOORS PRICES

Unit Price of Independent Floor As applicable
Down Payment Rebate 11.00%
Preferential Location Charges As applicable
External development Charges As applicable
Parking As applicable
Interest Bearing Maintenance Security (IBMS) Rs.50/- per Sqft


DOWN PAYMENT PLAN

On Application for Booking

Rs. 600000/-

Within 30 days of Booking

95% of Total Price Less : a)Booking Amount
b)Down payment rebate

On Offer of Possession

5% of Total Price + IBMS + Club + Registration +
Stamp Duty + Other charges, if any

CONSTRUCTION LINK PAYMENT PLAN

On Application for Booking

Rs. 600000/-

Within 2 Months from the date of Booking

15% of Total Price less Booking Amount

Within 4 months from the date of Booking

10% of Total Price

Within 6 months from the date of Booking

10% of Total Price

Start of External Storm Water Works or
Within 8 months from the date of Booking, whichever is later

7.5% of Total Price

Start of External Electric Works or
Within 10 months from the date of Booking, whichever is later

7.5% of Total Price

Start of Road Works or
Within 12 months from the date of Booking, whichever is later

7.5% of Total Price

Casting of Ground Floor Slab or
Within 14 months from the date of Booking, whichever is later

7.5% of Total Price

Casting of 1st Floor Slab or
Within 16 months from the date of Booking, whichever is later

5% of Total Price

Casting of 2nd Floor Slab or
Within 18 months from the date of Booking, whichever is later

5% of Total Price

Casting of Terrace Floor Slab or
Within 20 months from the date of Booking, whichever is later

5% of Total Price

Start of Flooring and Tile Work or
Within 22 months from the date of Booking, whichever is later

5% of Total Price

Start of fixing of Door Frames and installation of Windows or
Within 24 months from the date of Booking, whichever is later

5% of Total Price

On filing of Application for Completion Certificate
Or Within 27 months of Booking, whichever is later

5% of Total Price

On offer of Possession

5% of Total Price + IBMS + Club Charges + Registration
+ Stamp Duty + other charges, if any

Total Price = (Unit Price x Super Area of Unit) + Preferential Location Charges + External Development Charges +
Cost of Parking Slots


Notes

1. The rebate for early payment is presently @ 12.5% per annum and shall be subject to change from time to time.
2. Service Tax/ any other tax, if applicable, would be payable by the customer as and when demanded.
3. The yearly simple interest payable on IBMS shall be determined by the company as per the applicable rates on "one year" Fixed Deposits accepted by State Bank of India at the close of each financial year on 31st March.
4. Stamp duty & Registration charges shall be payable along with the last installment as applicable.
5. The Company would pay compensation to its first named Applicant only @ Rs.10 per sq.ft. per month for any delay in handing over the product beyond the committed period mentioned in the Independent Floor Buyer's Agreement . Similarly, the customer would be liable to pay holding charge @ Rs.10/- per sq.ft. per month if he / she fails to take possession within 30 days from the date of the company issuing notice of possession.
6. External Development Charges amounting to Rs 915/- per Sq Mtr calculated as per current rates shall also be paid by the Intending Allotee (s). In case of any upward revision thereof by the Govt. agencies in future, the same would be recovered on prorata basis from the Customer.
7. In addition of the Total Price, the applicant shall pay an amount of Rs. 1,50,000/- (Rupees One Lac Fifty Thousand only) towards Club Membership Fees for 5 years, Rs.6,000/- (Rupees Six thousand) for Annual Club Charges, Rs. 20,000/- (Rupees Twenty thousand) towards Refundable Security of Club, as and when demanded by the Company.
8. Prices, terms and conditions stated herein are merely indicative with a view to acquaint the applicant and are not exhaustive

Chadha Realtors, SCF 503 (FF), Sector 70, Mohali, Punjab.&nbsp&nbsp&nbspPhone: +91 - 99886 - 00021&nbsp&nbsp&nbspEmail: info@chadharealtors.com
© Chadha Realtors 2009. All Rights Reserved
design by Global Infotec