Welcome to Accord Corporate Square, Sector 90, Mohali

Transcend and Transform Spaces for the Future:
Corporate Square is a new landmark, coming up in the heart of Mohali. The 8 storied super structure situated in Sector 90 is in close proximity to Global tech giants like Dell, Philips, Sebiz Infotech, SCL (Semiconductor Complex Limited), PUNCOM and Quark Inc which is a 51-acre multi-use development.

Corporate Square is a future-ready business destination and is a testimony to world class standards, in Global knowledge infrastructure.

Corporate visionaries need an environment that helps them to be efficient and effective. Corporate Square offers them an environment with cutting edge technology, state-of-the-art architecture and facilities that match those anywhere in the world.
Features - What's on offer
Full Serviced Office/ IT/ITES Spaces first Time in the region

Roof Top Garden

Flexi Size & fully furnished workspace starting from 355 sq. ft.

4 lifts to manage traffic flow.

High-speed elevators with ARD system

Generous slab-to-slab heights

3 sided Insulated glass facade system

Efficient glass-to-glass distance ensures maximum natural light

Insulated roof slab

Luxurious lobby and toilet finishes

Internationally sized parking bays

Integrated Building Management System

Flexible floor plates offer seamless scope for expansion

100% power back-up ensures higher work efficiency

Adequate parking makes every business visit a pleasurable experience

The common areas are equipped with modern security systems like CCTVs and alarm systems that ensure 24x7 protection

The office interiors combine intelligent designs with few pillar obstructions to give it an expansive feel.

Reception Facility on each floors

Full service Pantry on each floors

Well lit corridors

Large floor plates, open span design and central corridors ensure maximum utilization of land space

Conference Halls
Notes :
 Brand & make of the items will be decided at the time of possession on the sole
discretion of the company.
 Number of Items may vary on pro-rata basis of the size of the unit.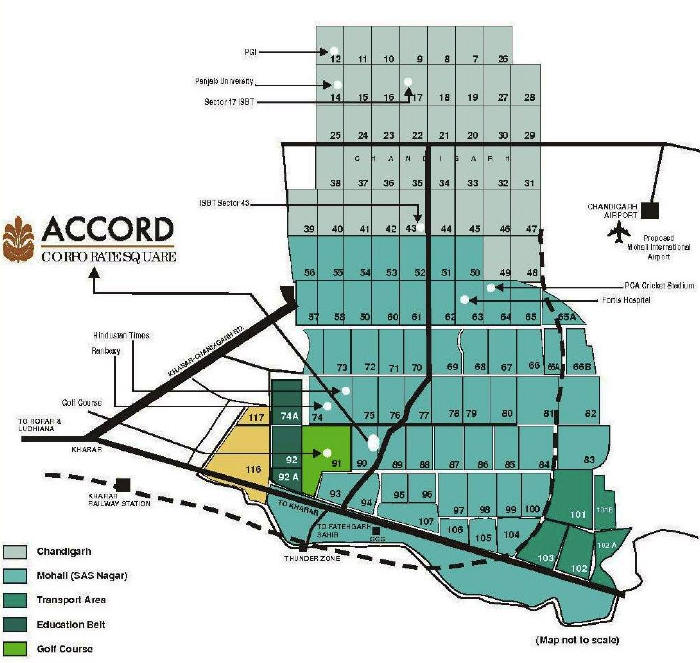 Connectivity is an advantage no business should ignore.

Corporate Square provides businesses that get extra advantage from -connectivity to arterial roads, highways, airports and access to the local talent pool.

Mohali being the most corporatized city near Chandigarh has following landmark developments to its hall of fame -

Global tech giants like Dell, Quark, Philips, Sebiz Infotech, SCL (Semiconductor Complex Limited), and PUNCOM and
Denver-based Quark.
Indian Institute of Science Education & Research (IISER)
National Institute of Nano technology (NINT)
International level Management Cluster
Bio-Technology Cluster Comprising
National Institute of Agro-Food Biotechnology
The Biotechnology Park
The Bio-processing unit.
Punjab Habitat Centre in Sector 68, Mohali for facilities like Art Gallery, Food courts , Health Club etc
GMADA Golf Course on 300 acres Land
A Golf Range in SAS Nagar
NIPER National Institute of Pharmaceutical Education and Research (NIPER) situated at Sector 67 Mohali.
International Cricket Stadium which is also known as Punjab Cricket Association Stadium; situated at Sector 63, Mohali.
Indian School of Business (ISB) campus is coming up at Sector 81 Mohali.
IIT Ropar already started its academic session in 2009, which is very close to Mohali.
Mohali International Airport

Corporate Square being part of the emerging corporate city enjoys all the benefits. Apart from major landmarks of the city which is in close proximity to site, the project is part of fully developed township of JLPL and minutes away from commercial markets.